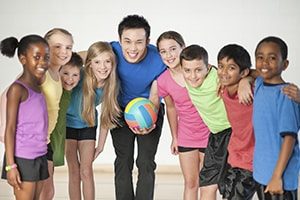 Hi! We're the Your School Name Team, and we absolutely LOVE what we do. Whether you're interested in serious Self Defense, a boost in Confidence, to finally get Fit and Healthy, or just to have Fun, we can help you do it!
We care deeply about our members. It's our mission to help everyone we come in contact with to improve their lives. Often, that means knowing that you or your child can defend themselves properly. But sometimes, it simply means being more supported in your personal journey, being challenged to reach your own personal goals, or just knowing that you belong somewhere. We sincerely hope that you can find that with us.
So take a look around our website, and sign up for one of our trial programs. We can't wait to meet you!
Martial Arts is an excellent activity for children. They'll learn to defend themselves physically, but more importantly they'll build the mental and emotional skill sets necessary to conquer challenges like high school, college, and becoming a healthy, balanced adult.
Social Interaction, Coordination, Improved Flexibility, Focus and Listening Skills are just a few of the huge benefits that preschoolers can receive from properly structured Martial Arts classes. No other activity instills such important skills so early in life.
From setup to clean up, we have you covered! Your child and their friends will play games, be entertained, and even learn real marital arts moves. Parents say it's one of the most unique and coolest parties they've ever been to!
Whether it's losing weight, building muscle, learning to defend yourself, or just having a blast, our Adult Martial Arts classes have what you need. You'll love the high energy class instruction, your body will love the awesome workout, and your spirit will love the camaraderie and positive atmosphere.
A Family that Kicks together Sticks together! There's nothing more satisfying than growing together as a family while you learn valuable self defense skills and character development. Nowhere else will you find such quality, healthy, purposeful family time!
Mixed Martial Arts is the future of Martial Arts, as seen on the UFC and other fight promotions. You'll learn the most effective Martial Arts moves from each style of Martial Arts, and become far stronger and more knowledgeable than if you learned only one style.
Krav Maga is as "real-deal" as it gets. Krav is the official fighting system for the IDF, or Isreali Defense Force, one of the toughest and most feared fighting forces in the world. In our Krav classes, you'll learn fool-proof defenses from all kinds of attacks - even those including knives and guns.
Our Kickboxing class is a hardcore, bag-slamming, aggression releasing, bored-with-the-gym-scene workout that you will love. Set to popular music, this group setting class consists of punches, kicks, calisthenics, stretching and more.
Melt body fat, build lean muscle, and look and feel better than ever before. Workouts don't work for most people because most people's workouts are boring! In our fitness classes, you'll love the high energy instruction, and you'll be motivated and supported by other members just like you!
Melt body fat, build lean muscle, and look and feel better than ever before. Workouts don't work for most people because most people's workouts are boring! In our fitness classes, you'll love the high energy instruction, and you'll be motivated and supported by other members just like you!
Jiu Jitsu is all about real self defense that really works. You'll learn how to use leverage and technique to effectively defend from much larger, stronger opponents. Plus, you'll get healthier, feel great, and gain enormous confidence form knowing you can handle any situation.
Tai Chi is a low impact Martial Art for the young and old. It's flowing motions help strengthen muscles and joints, while increasing flexibility and encouraging improved health through greater circulation, immune system rebound, and mental clarity.
Jeet Kune Do was created by the famed Bruce Lee, and is often referred to as the art of "Fighting without Fighting". It is designed to be ultimately effective, utilizing the most devastating street defense style martial arts moves, to help you keep yourself and your family safe.
Take one week or all Summer. Our Summer Camps are completely awesome. Field trips, games, leadership and character development, movement classes, arts and crafts...the list goes on! Our team members ensure your child's Summer is amazing.
You do NOT have to 'settle' for regular daycare. Your child is picked ups from their elementary school, fed them a healthy snack, helped wth homework, and given 30-60 minutes of guided, structured movement and play, including self defense and character development lessons.
When school is out, parents usually still have to work! On snow days, teacher inservice days, Holiday breaks and more, we're here for you. Our affordable camps feature fun and movement, arts and crafts and more. Plus, early drop off and late pickup is included free.
How To Join Your School Name
1

Read About Our Programs

We firmly believe that Martial Arts classes for both children and adults are the best way for you to see the results you want. Whether it's focus and discipline or weight loss and self defense, we know you'll love our classes. Click to learn more about a program that sounds like it will help you reach your personal goals.

2

Enroll For a Trial

Enroll for a no obligation trail for any of our programs. We won't pressure you to enroll, and there's no obligation to continue paying after your trial. It really is "no strings attached".

3

Observe Objectively

Will our Classes help you reach your goals? Do you think what we teach your children in class will help them as they grow, or what we practice in adult classes will help you live a better life? It's really important to us that your goals will be met.

4

Become a Member

At the end of your Trial, you'll be eligible to be a student at Your School Name, and we'll help start you toward a path to success!